Eric Potterat, Ph.D.
Day 1 | Keynote Speaker "Excellence in Leadership"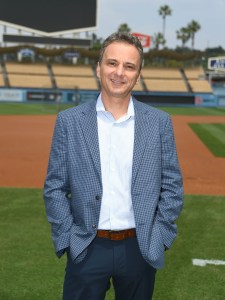 Eric Potterat, Ph.D. is a High Performance/Sport/Clinical Psychologist and a retired U.S. Navy Commander, who during his last 10 years in the Navy served as the Psychologist for the U.S. Navy SEALS.  He is currently the Director of Sport Psychology Programs for the Los Angeles Dodgers where he oversees the organization's sport psychology programs, mental assessment and selection programs, neurocognitive efficiency programs, etc. For the last 5 years, he has also served as an Executive and Organizational consultant and coach with various Fortune 500 companies.  Within this role, he has aided with talent acquisition, resiliency training, change management, leadership consulting and as a speaker for multiple company national sales meetings, corporate retreats, etc.
Eric has 30 peer-reviewed, professional journal and/or chapter publications, has been featured on national media (History Channel, MSNBC, national magazines, etc.), and has served as a consultant to many organizations including, numerous professional (NFL, MLB, NBA, etc.) and collegiate sports teams, individual professional athletes, Red Bull High Performance, NASA, many law enforcement and government agencies, firefighting organizations, and Fortune 500 corporations.  His assessment, selection, player development and performance enhancement expertise helps athletes, executives and high-performance mindset focused individuals thrive and excel in the face of pressure and organization adversity.
He is considered one of the leading experts in individual and organizational resilience and performance enhancement in high-risk, high-performance occupations.