Brad Freking
Day 2 | A Labor Plan for the Future & Inflation in a Commodity Industry: Panel Discussion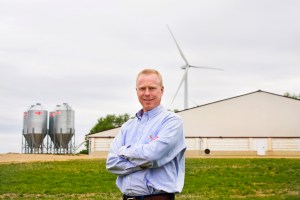 Brad Freking and his wife, Meg, founded New Fashion Pork in 1994 after expanding his parent's farrow-to-finish sow operation in Jackson County, Minnesota. A veterinarian by training, Brad grew New Fashion Pork's roots and acquired hog facilities and feed mills across the Midwest during the business' following ten years.
Now operating in seven states, New Fashion Pork employs over 400 team members, markets over 1.4 million hogs yearly, and owns just under 60,000 sows. New Fashion Pork's commitment to excellence and continued progressive development has made them one of the most successful and leading pork production companies in the United States.
In 2004, Brad joined forces with four like-minded producers to build Triumph Foods. Triumph Foods is a state-of-the-art pork processing facility in St. Joseph, Missouri.  In the fall of 2017, Triumph Foods entered a 50/50 joint venture with Seaboard Foods, establishing another state-of-the-art pork processing facility, Seaboard Triumph Foods, in Sioux City, Iowa. Triumph Foods and Seaboard Triumph Foods each process over 6 million hogs annually. The two processing plants are recognized as top processors and exporters of premium, fresh pork products.
Triumph Foods also entered a 50/50 joint venture with Daily's Premium Meats in 2015. The plant, located across the street from Triumph Foods, produces a variety of cured bacon, smoked hams, and delicious breakfast sausages for both the food service and retail sectors.